Wedding Facebook Photos
Facebook Posting Tip: No Photos of the Bride Getting Dressed!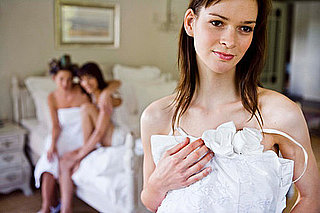 While creating a Facebook fan page for your wedding may be socially acceptable, there are a few wedding-related Facebook posts that are best left unseen. Take this example: one Glamour blogger recently posted a Facebook rant I thought would be pretty obvious: do not tag the bride in photos of her getting ready! The poor blogger was clicking through a bridesmaid's photos from her wedding day and came across a "boudoir shot" of her getting ready! While the photo wasn't tagged (that would have been in serious poor form), it was still smack in the middle of an album containing tons of wedding photos, easily seen by many people!
This wedding season, take note: bridesmaids (or anyone else in the room while the bride is getting ready), do not post half-naked photos of the bride!