Wedding Reception Assigned Seating Tips
Wedding Receptions Don't Have to Be Awkward: SocialTable
I found that the most stressful aspects of planning a wedding were details concerning the guests. Questions like "what do our guests want to eat/drink/listen to" are enough to make your head spin. Yes, the wedding is about you as a couple, but you can't deny that your guests' likes and dislikes weigh heavily on your mind.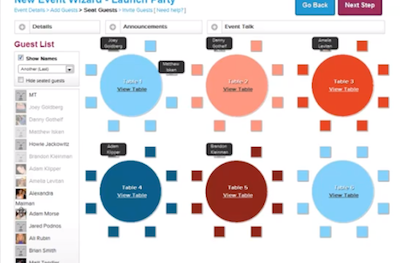 Take, for example, the seating arrangements. Figuring out who will sit next to whom is like walking through a minefield — you never really know who will hit it off. But you can put yourself (and your guests) at ease by letting them get to know each other a little better before they even step foot in the reception hall with the help of a little site called SocialTables.
SocialTables works for any event, but it's especially helpful at weddings. The site allows you to plan a seating arrangement based on your uploaded Gmail contacts, guest list (in Excel files), and/or Facebook contacts. You can drag and drop contacts into seats (with tables ranging from 4,6,8,10, and 12 tops) and arrange and rearrange your configurations until the cows come home. But that's not the best part. Find out more after the break.
You can invite your guests to join SocialTables in order to see your seating chart before the event, and connect on Facebook or email to start getting to know each other before they meet face to face. This way, your guests will feel more at ease during dinner, and conversations (instead of alcohol) may flow a little easier. There's even integration with The Knot if you've already started using its tools. Signing up for SocialTables is free for now, so be sure to hop on or forward to your wedding planner sooner rather than later!