Wedding Shower Planning Tools
How To Plan a Wedding Shower With Online Tools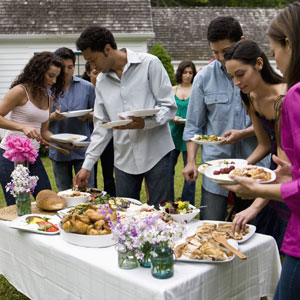 Planning parties has become infinitely easier with the advent of the Internet, and if you're already familiar with the tools at your disposal, then planning your wedding shower or engagement party will be that much simpler.
Whether you're the one getting married or a friend of the bride and groom throwing the event, trust me — online planning is where it's at. Check out some of these online tools that will help you design an awesome fête.
Online party planning site PunchBowl can help you plan your party, with ideas and advice for every step of the way.
Since the wedding shower is not quite the big, formal event a wedding is, email invitations are perfectly acceptable (not to mention eco and ultra-convenient). One of my favorites, of course, is eVite. They have a few pages of wedding-themed invitations that would be great for a shower, and you can always design your own.
See the rest of my tips after the break.
Don't let anyone get lost! If you're using eVite, Google Maps is already integrated, but if not, you can email the map or grab and embed the code in your invitation.
After the party, remind people how much fun they had and upload your photos to one designated photo site, like Flickr, Picasa, or Shutterfly, so you can keep all the memories in one place to share for years to come.