Little details are what make weddings so spectacular. Couples comb through magazines, blogs, and Pinterest for inspiration — and a website called Carats & Cake is hoping to show potential brides and grooms how exactly they can use those ideas for their own nuptials.
Carats & Cake, which launched in 2012, allows newlyweds to annotate their wedding photos with vendor information, sharing their wisdom and experience with brides-to-be online. Each vendor has a landing page where users can view how many brides recommend (or were heartbroken by) that location, caterer, etc. There's even a platform for users to direct message a couple for more information.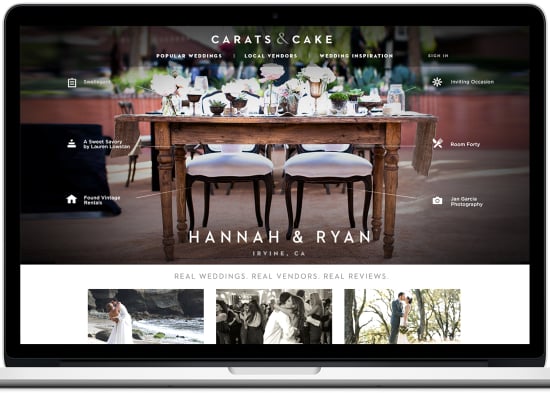 It's still invite-only to upload recommendations, but the weddings and vendor landing pages are viewable to all. The site is clean and absolutely beautiful. Brides can browse weddings from their areas or the nuptials of their friends from Facebook, Twitter, and Google+.
Vendors are searchable by type or location. Carats & Cake currently has photographers, dressmakers, shoes, venues, flower shops, bakeries, caterers, hair accessory brands, jewelers, hair and makeup, stationery, music, and groomsman attire listed.
Wedding-planning apps are a dime a dozen — but one that will take the mystery out of where that bride got her flowers done? Now, that's something truly useful.