What Is BeCouply
BeCouply: A Social Networking App Just For Dating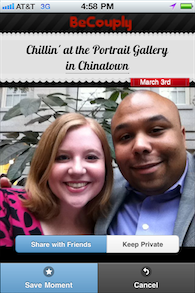 The Internet can help you find your mate, either on a dating site, through your online social network, or by allowing you to offer a $10,000 award to anyone on the web who will introduce you to your future wife. Once you're paired up though, technology seems to make love more complicated — you must consider the realities of flirtexting (yes, that means flirty texting), navigate the awkward subject of changing your Facebook status, and if you end up changing that status to "married," hope you don't succumb to the fate of 1 in 5 divorced couples who say Facebook played a role in their breakup.
After meeting on OKCupid like many twenty-something couples today, Becky Cruze and MIT-grad Pius Uzamere decided to create a product that would make relationships easier for "couples with epic social lives." So they quit their jobs and started working together full-time on BeCouply, a mobile and web app that will launch in a couple of weeks (you can sign up for an invite). The app is part date idea generator, part online scrapbook. Founder Becky Cruze explained the concept to me:
"You'll have a date idea feed similar to Twitter or the status updates on Facebook with date ideas from other couples in your network. You'll see ideas they're planning or things they've already done. Or, you can enter ideas that you have and see if any of your friends want to join. There will also be suggestions coming in from us at BeCouply, like events going on in your city, concerts, anything related to holidays, or any deals that might be going on."
As for the scrapbook component, it's actually how some of the date ideas get generated. Find out more when you keep reading.
Becky continued:
"BeCouply also allows you to capture special moments and acts as an instant and virtual scrapbook. Then, what's a memory for one couple becomes a date idea for another. For example, if me and my boyfriend, we're in DC, go to the Smithsonian Art Museum, we might see a neat sculpture. Instead of taking the picture straight through the phone, we take it through the phone's BeCouply app and write a caption. Then we have the option to share it or not. So either way, it's an entry in our scrapbook. And if we want to share it, it would appear as an idea for our friends, like 'visit the art museum.'"
They hope to eventually have it work together with Twitter, Facebook, and Foursquare too. Do you think current social networking tools are good enough, or could you use something like this in your love life?