What Is the Branch Website?
Branch, an Intimate Conversation With the Internet
Conversation platform Branch, launched by Twitter founders Ev Williams and Biz Stone, is finally ready to bring civil discourse to the Internet. The startup came out of Beta this week and is opening its membership to the World Wide Web.
Branch wants to bring great conversations — the kind friends have over coffee, long drives, and intimate dinners about their passions and interests — to the web, with a new social network that promotes healthy, lively discussion without the noise (or the trolls).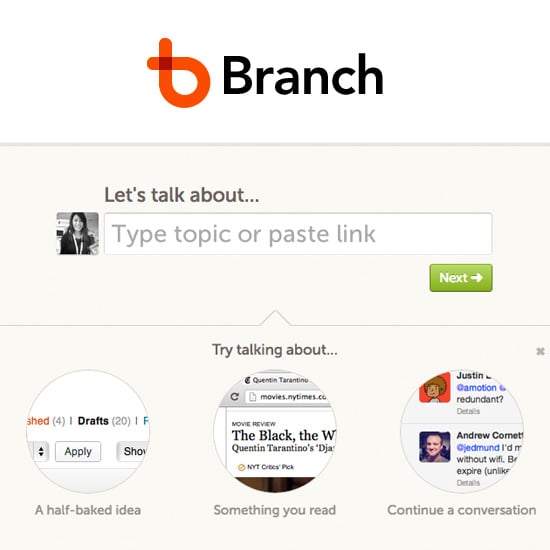 Like Quora, Branch is a "high-quality" discussion forum based on topics. But unlike Quora, the site is heavily integrated with Twitter (thanks, obviously, to Ev and Biz), the interface is much more user-friendly, and creators can choose to end discussions.
The site just added a host of new features, including an activity feed showing your interactions with others on the site, the ability to highlight and comment on individual sentences, and audio-embed compatibility with SoundCloud and Spotify.
Do you think Branch will bring people closer together? Take a look at the current heated discussions over Android vs. iOS usage and Reddit, and then tell us what you think.
Watch Branch's introductory video after the break.