What Do I Do If My Email Gets Hacked?
What to Do After Your Email Account Gets Hacked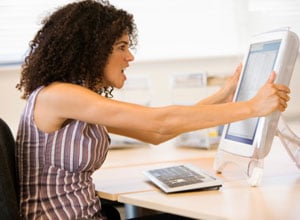 I've mentioned before that I've left a few old email addresses open after switching to a new mail program, and most of you admitted to doing the same. Well, here's one reason you (and I) might want to reconsider that stance. An old email address I left open and checked once a week or so was hacked, and for three days sent spammy messages to all of the contacts in my address book.
Since I hadn't given that address out in years, I hadn't talked to many of the spam recipients for quite a while. Finally yesterday, a friend sent me a message on Facebook to let me know about the spam. I was mortified! Find out what I did next, and learn what steps you should take if your email address gets hacked after the break.


Change the password: The first line of defense against hackers is a solid password. Turns out, mine was pretty lame. Here are a few tips on how to pick a good one so this doesn't happen to you.
Check your other accounts: I know that sometimes it's easy to remember just one password, but if you've used the same password on multiple accounts (say Facebook, Twitter, and heaven forbid, your bank account) then you'll want to change those as well as soon as possible.
Delete old accounts: Although it may be fun to sign into the MySpace profile you haven't used in six months, go ahead and dump it — it's just begging to get hacked. Use a few of these handy websites that will help you find old profiles and accounts you may have forgotten about to keep your hacker liability low.
Send an apology: Even if you haven't corresponded to the poor people you've spammed in months (or years!), sending a mass email (at the least) will help smooth things over. No one likes finding spam in their inbox, especially when it's from an old friend.
Pay it forward: It's embarrassing enough finding out that you've been unknowingly spamming your friends and colleagues, so if you ever get spam from a friend, contact them immediately to help them minimize the damage.
Have you been in this situation before? How did you handle it?