What Does Muting or Archiving Emails in Gmail Mean?
Ask a Geek Girl: Wait, Where Did That Email Go?
With so many features and an expanding collection of Labs, inevitably some Gmail features get overlooked, even by the savviest user. I had no idea what "mute" or "archive" meant in the Gmail options toolbar;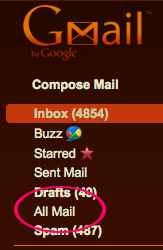 I just knew that I accidentally archived several messages when checking Gmail on my BlackBerry — something about the combination of buttons I pushed would cause messages to be archived. After a few "disappearing" emails, I finally figured out where they were going.
Archiving a message in Gmail is an easy way to clean up your inbox without deleting messages. The conversation is saved — and if someone replies, the reply will pop back into your inbox. Muting a message is similar, but a little more final. If you mute an email thread, it disappears from your inbox entirely, even if new replies are added. But where are these messages actually going? To find out,
.
Muted and archived messages end up in the "All Mail" folder, one that I'd overlooked hundreds of times. All Mail is located on the left menu bar, below your Inbox, Sent Mail, and other links. (If you don't see it, click on the "more" link directly above your contacts.) This folder displays all messages, including saved Gchats. You can move messages around and add labels to messages in the All Mail folder just as you'd move and edit them in your inbox. You can also undo both of these actions and send items back into your inbox, so if you'd like to move any muted or archived conversation, just select the conversation and click "Move To Inbox."
Do you have a tech question you'd like to ask us? Create a PopSugar Account or log in to your account. Then join the Ask a Geek Girl group, where you can ask everything and anything related to technology. And you never know, it could be featured on GeekSugar! Here's a detailed guide to posting questions or posts to groups if you are new to the PopSugar Community.