What Is Facebook Graph Search?
5 Ways to Use Facebook Graph Search
Facebook launched Graph Search, a "new way for people to navigate connections," in January, and is finally rolling out the feature to all US English language users today. The highly personalized search function hasn't changed much since it was first introduced — some updates to speed, query understanding, and result relevancy were made behind the scenes.
Once you've been on Facebook awhile, your interactions with people have likely stayed fairly static; Graph Search wants to change that by helping you rediscover the hobbies you share with others or new people in your city with similar interests. Since Graph Search makes it easier to find photos, interests, and information, it may be a good time to review your privacy settings.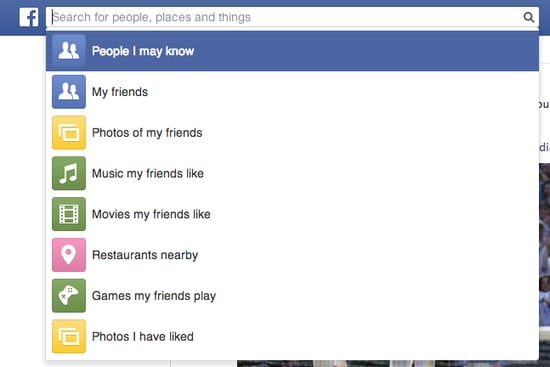 Graph Search is located at the top of each Facebook page as a big search bar, ready to become your new primary mode of interaction on the site. It pulls information based on four parameters: photos, places, interests, and people. The actual real-world use of Graph Search is fairly uncomplicated; in fact, here's how you would use the new tool in five different ways.
Personalized dining recommendations — Turn to Graph Search to find the best sushi in your city based on the restaurants liked by friends.
Find adventure-ready pals — In need of a new tennis partner? Search "People in Brooklyn who like tennis" and discover other sports enthusiasts in your neighborhood.
Discovery engine — Find your new favorite band by searching "Music my friends like in San Francisco."
Virtual book club — Pick up a new book based on the recommendations of influencers on Facebook, for example: "Books read by CEOs."
Archive search — Search the phrase "Photos of friends from before 1999" to find those early (and, let's be real, adorable!) pictures friends uploaded of their childhoods, or search by a place like "Photos of friends from Milan, Italy" to act as a travel guide.
Try out Graph Search for yourself, which is only available in English for now. What do you think of Graph Search; are you likely to use it?
— Additional reporting by Nicole Nguyen