What Is a Firewall?
What Is a Firewall, and Why Do I Need One?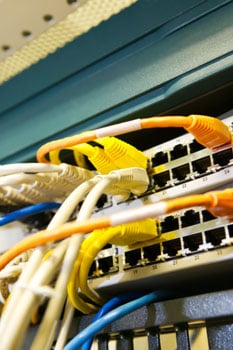 June is Internet Safety Month, so for the next few weeks we'll be giving you tips and advice on how to stay safe online.
Some Internet users browse the web totally unaware of the dangers that are lurking right around the corner. I don't want to strike fear in your geeky little hearts, but the truth is — you need to know how to protect yourself from hackers and evildoers. Your first line of defense against web danger (besides common sense) is your firewall. But what exactly is a firewall? Find out below!
What is a firewall?
A firewall is a barrier between you and the Internet at large that filters information that your computer can receive. Companies usually have firewalls in place to keep certain kinds of websites, people, and information from being accessed from outside their networks, keeping sensitive info safe, and you focused on the job. Your home computer and/or modem can have a firewall built-in as well, acting as the gateway to your home network and the Internet.
Find out why you need a firewall after the jump.
Why do I need it?
A firewall is kind of like a bouncer at a club — only letting the right kinds of connections into your home network. It keeps out any hackers and malicious software from accessing your computer.
How do I activate and configure my firewall?
Your computer's system preferences, control panel, or security section should house your firewall settings. Make sure your firewall is set to "On," and you can even customize what kinds of websites, domains, and IP addresses can be accessed via your home computer.