What Is Google Helpouts?
Live Expert Advice? Google Can Now Help With That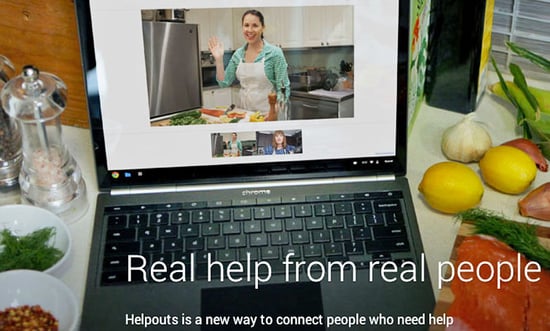 Say you're at home struggling to perfect a smoky eye for a night out or can't figure out how to style that awkward corner in your living room. Wouldn't it be nice to have an expert pop in to help you out? Thanks to Google's new platform called Helpouts, that's not such a far-fetched reality.
The service, unveiled today, is similar to a video Hangout chat except instead of talking with friends, you get face time with experts who dish out advice. You pay either by the minute, by the task, or for a set length of time, determined by the specialist.
For now, you can choose from a number of practical categories like computer and electronics, cooking, art and music, fashion and beauty, home and garden, and health services. How do you know the service is legit? Google vets the experts and quality is measured by user reviews. And it's not just individuals who are offering advice — companies like Sephora and Weight Watchers are joining in, too.
Click to see the Helpouts video!
Aside from the site, users can access Helpout by phone thanks to an Android app. Ideally, experts will leave Helpout open on their computers and get an alert or text when they receive a request in the system to "help out." If you don't hear back from the specialist in under five minutes, the tutorial is free.
The future of Helpouts is obviously up in the air while Google sees how this early round goes, but the idea of having someone actually see your problem and help out on the spot just might make all those lemon-zesting woes disappear.