What Is ITunes Radio?
iTunes 11.1 Offers Its Free, Unlimited-Music Pandora Competitor
Apple's in-house media player, iTunes, is ready to take on Pandora, Spotify, Rdio, and more of the web's biggest music streaming services. The latest update, iTunes 11.1 (view the download link in Safari to get iTunes 11.1), launches today for Mac and Windows with iTunes Radio for desktop, which offers free, unlimited music listening with ads for US users. In terms of digital music, the iTunes Store paved the way for many subscription services, offering the first online platform to purchase music legally in the post-Napster era.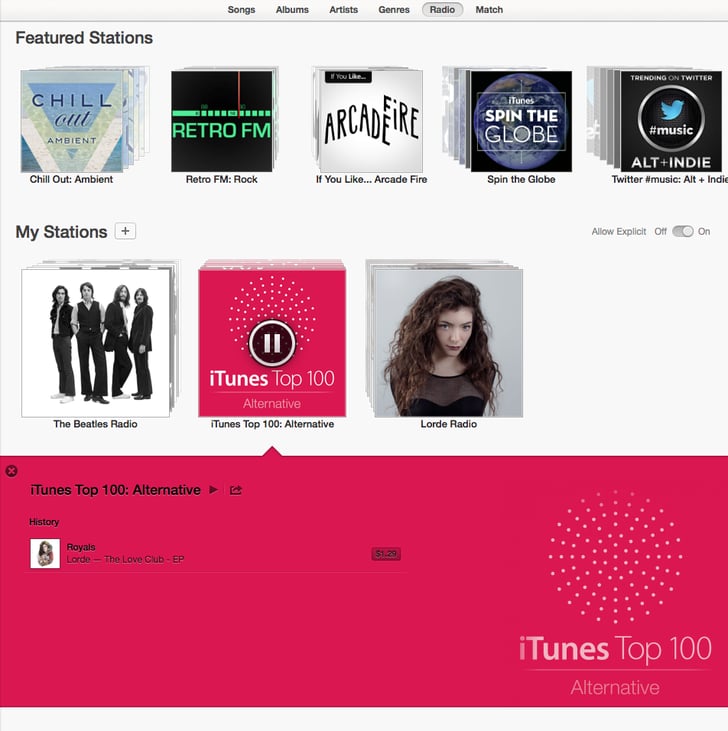 The free version of iTunes Radio allows six skipped tracks per hour and unlimited listening with ads. A $25/year upgrade with iTunes Match will remove the ads but won't provide offline listening like the other subscription music services.
iTunes Radio works essentially like Pandora, offering 250 DJ-curated and genre-specific radio stations with options for users to create their own radio stations based on a song, album, or artist. Tune each station to play the hits, variety, or lesser-known tracks to discover. Explicit tracks can also be filtered out by selecting "Off." If you're proud of your station, you can share it via email, text, Twitter, Facebook, or copying a link from the web.
There are more new note-worthy features in iTunes 11.1, like Podcast Stations, which allows users to listen to the most recent audio from their subscribed podcasts in a playlist. Genius Shuffle is another added experience. It's similar to "Party Mode" in that the feature uses songs from your iTunes library, shuffles them, and arranges the tracks into an endless playlist. The difference with Genius Shuffle is that it pairs songs that "go great together."
Thinking that you'll stay with iTunes 11? You'll need iTunes 11.1 to upgrade to iOS 7. Happy streaming!