What Is Spotify?
5 Things You Need to Know About Spotify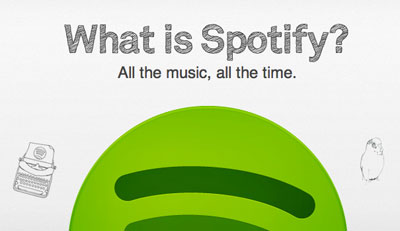 This morning, Spotify officially launched in the US. Competing against cloud music services like Google Music and Amazon's cloud music, as well as music streaming services like Pandora and Grooveshark, Spotify not only allows you to take your tunes with you anywhere, but also gives you access to millions of songs around the world on demand. Find out more about Spotify (and how you can get in on the action now) below.
It's free with an invite, but there's also paid options: If you signed up to receive an invite through Spotify and don't mind waiting for it to land in your inbox, then you'll get your Spotify service absolutely free, but with advertisements and six months of unlimited streaming (after that, there will be a montly cap). However, if you don't want to wait (or you didn't sign up through Spotify's website), you can skip the waiting and just pay for a Premium ($5) or Unlimited ($10) plan. The Premium plan limits you to your PC for streaming, but you can listen to an unlimited amount of songs without ads. The Unlimited plan lets you stream on your PC or mobile without ads, and comes with an offline mode for streaming without an Internet connection.
You can play local files or search for other tracks: Not only can you upload and play your own tunes on Spotify, but unlike Pandora, you have the freedom to search for other songs you might want to listen to and get them on demand.
Create and share playlists: You can create playlists from your own music to share, or make a playlist from songs you've searched for. Just drag and drop the songs into a new playlist, and you're set. You can even share the playlists with your friends!
See the rest of the list after the jump.
You can buy Spotify as a gift: Celebrating a special someone? You can buy Spotify Premium egift cards, so they can enjoy music anytime.
It's easy to install: Getting started is simple. All you have to do is install the Spotify client on your computer, select a name and password, and you're ready to rock out at your desk. Just don't pump up the volume too loud at work; Headphones are recommended.
Check out the promo video of Spotify below!