What Is Subtweeting?
Are You Guilty of This Twitter Trend?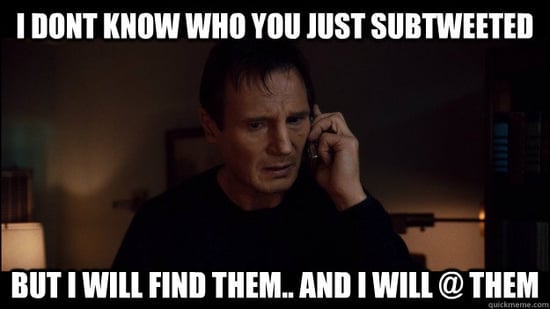 Twerking may be out, but subtweeting is so in. You've probably heard the phrase recently, what with Rihanna getting into a subtweeting feud with Teyana Taylor this week and Drake denying that he subtweets often.
But what exactly is subtweeting? Basically it's when you tweet about someone without using his/her Twitter handle. You could do it when you're complimenting, but let's be real: most of the time it's for venting.
But I DID learn what subtweeting is and it turns out I've been heavy into that since '09

— Lena Dunham (@lenadunham) July 13, 2013
One option is to not mention the person's name at all (and be super passive-aggressive), and another is to call someone out by name without the handle.
Some examples:
i hate it when you cancel plans and they're like 'oh i'm busy anyway' like stfu no you're not

— d (@destinyemakpor) September 27, 2013
Jose keeps subtweeting and its driving me crazy because I have no clue who he's talking to.

— J. (@jaemarilyn) September 27, 2013
Bottom line: it's like talking behind someone's back — except in the least discreet way possible. Are you guilty?