What Is the Toby Bookmarking Tool?
This Bookmarking Tool Completely Changed the Way I Browse Online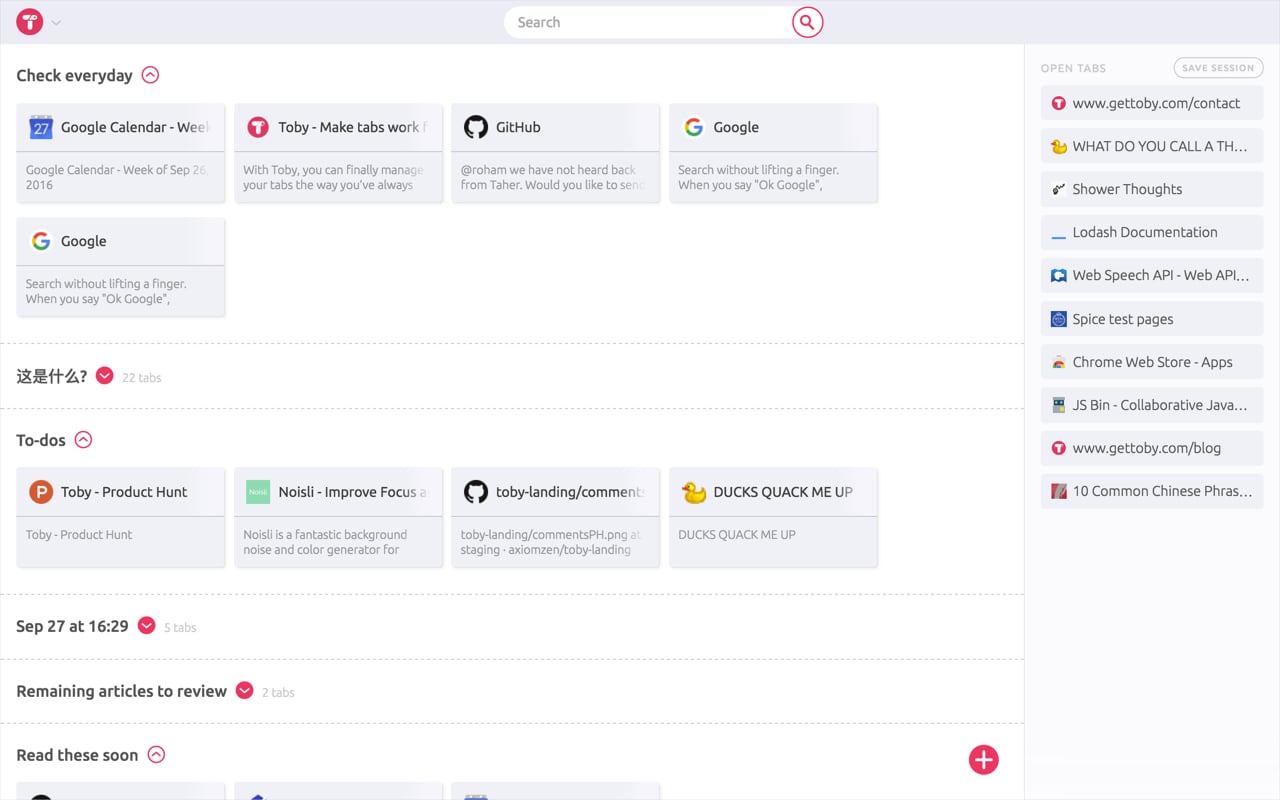 I never used to bookmark anything online. I was someone who just kept way too many tabs open at one time. That is, until a friend of mine showed me this amazing "better than bookmarking" tool called Toby. It's completely free for individual use, and I now have it set as my front page so that every time I open up my browser, I can see everything I've saved organized into neat little categories. It is a complete game changer.
The categories are completely customizable to meet your individual needs. You can expand or collapse them, and you can also add tags to each category, like work, personal, and self-care. I've used it to save and apply for jobs, to collect inspirations, and to increase productivity.
So, how does it work? If you want to bookmark a page you're on, you go to the top right corner of your browser, open up the Toby tab, and select which category you want to add it to. You can also add the tab to multiple categories at once, or save an entire session of all the tabs open. And if you move to a new computer or had everything crash and accidentally erased, Toby can sync all your bookmarks to your online account, creating a handy backup.
Because Toby is so easy to access, you don't have to go into the weird, obscure place where traditional bookmarks exist. You can easily save what you need for different projects and just delete them when you you're done. There's even a search feature so that you can find a specific link in your saved categories! According to Toby's website, "A recent survey to Toby users has shown that we can save you up to eight hours a week." Eight hours!
When I was applying for jobs, I made two categories in Toby — "To Apply" and "Applied." Because there are so many different job posting websites, Toby made it really easy to keep track of what I had already applied to and what I needed to do next. I also keep different categories for inspiration, such as YouTube tutorials and recipes I'd like to try. And if you're like me and can get easily distracted online, you can create a category called "Look at Later" so that you can still keep all those interesting links you stumble upon but stay focused on your task at hand.
Toby is available on Chrome, Firefox, and Opera if you use this extender.
Image Source: Toby