WhatsApp iPhone, Blackberry, Android, Nokia App
Download of the Day: WhatsApp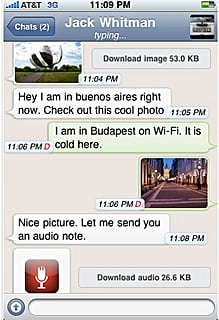 If you're an avid text messager, you've probably learned that texting internationally can add up . . . fast. Most providers charge for both sending and receiving international texts, which you may not even realize until the bill shows up. For example, AT&T charges $.25 to send an international text and $.20 to receive one. And given that the typical text message conversation can easily last 10 messages to figure out something as simple as where to meet for dinner, the charges can pile up exponentially in a month.
Enter WhatsApp, a text messaging app for iPhone, Android, BlackBerry, and Nokia phones that allows you to message contacts on any device, completely free of charge. Well, free of charge after paying the $1 to download the app, which will pay for itself in approximately one conversation. Even Savvy approves! Learn more about WhatsApp after the jump.
Besides text messaging, WhatsApp users can also send unlimited photo, video, and voice messages to each other. Enable push notifications to receive immediate alerts when you receive a text, and even set a status message to let your friends and contacts know whether you are able to send or receive messages.