Where to Find Single Geeks to Date
6 Places to Find a Single Geek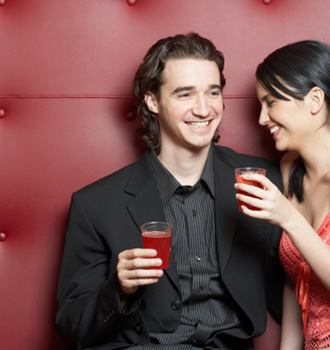 In my social circle, there are more than a few gals asking themselves "Where are all the single geeks?" If you find yourself pondering this question as well, don't fret. We've rounded up six places you're likely to find some geeky love online and in the real world.
Online — According to new research, 66 percent of Gen-Y daters know someone who found love online, and there are lots of places to look. From Cupidtino to DateCraft (the insanely popular World of Warcraft dating site), you're sure to find that special geek wandering the Internet. You may even stumble upon a geek worth talking to in forums and comment sections on your favorite websites. Keep your eyes peeled — they're out there.
Sunnyvale, CA — OKCupid's recent Valentine's Day poll shows that there are more eligible geeky bachelors in Sunnyvale, CA, than anywhere else in the country. It's in the heart of the sunny, Silicon Valley, so if you're ready to settle down with a hard-working software engineer, tech expert, or entrepreneur, then head west my friends. You may also get a good tan in the process.
Google+ — The piping hot social network from Google is fresh out of the kitchen and already has over 10 million members under its belt. According to new research, 66.4 percent of Google+ members are male, so while there's no "looking for love" relationship status to select on your Google+ profile, chances are, you'll come across plenty of single geeks on this social network.
See the rest of the list when you read more.
WonderCon and Comic-Con — Comic convention geeks are passionate, committed (how else would they be able to finish such elaborate costumes?), and love to have fun. Head to this year's Comic-Con convention ready to mingle — hit up some of the celebrity panels and strike up a conversation with a lone cutie, and go to the costume gala prepared with your own impressive outfit.
iPhone lines — There are scores of tech geeks ripe for the picking in iPhone lines all around the globe. If you can stand them possibly being a little smelly (camping outdoors for days will do that to you), there's lots of opportunity to chat while you wait to get the next Apple release. Bring some classic board games, instant hot chocolate, and playing cards, and invite your fellow linemates to play in order to learn more about them and beat boredom at the same time.
Geeky movie premieres — Have you seen a

Star Wars

movie line? They can go for blocks, and they're packed with movie buffs of the geek persuasion. Granted, you may have to wait a while to see another Star Wars film in theaters, but the next time you see a comic-related or legendary movie lineup happening in your town, head over and check out the scene. Like Comic-Con attendees, these movie geeks are dedicated and passionate, which is good news for any geek gal looking for love.