Where to Watch James Bond Online
The Theater's Not Enough: How to Get a Dose of James Bond Online
After you've caught the latest Bond thriller on the big screen, the spy adventures don't have to end. Get crafty with your resources, and add a bit of the MI6 agent to your online life with this guide on watching, reading, and playing Bond well after the lights have come up on your Skyfall screening.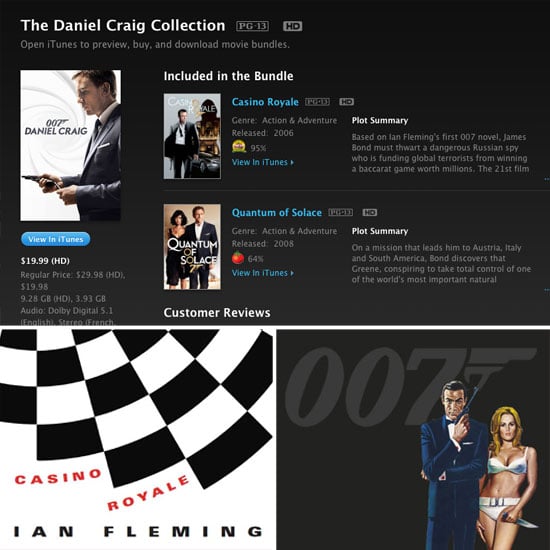 Downloadable Movies
While I'd love to tell you to just log in to one of your streaming media accounts to watch Bond at no additional cost, Netflix's only title is the 1967 spoof Casino Royale, which boasts an impressively low 27% rating on Rotten Tomatoes. Though Hulu's library doesn't include any other 007 titles either, you can still get your spy fix online.
iTunes — Apple's iTunes store has dozens of Bond titles ready for paid download. Require a little action that one movie at a time? ITunes conveniently bundled films together by actor; after all, everyone has their favorite Bond. Get a dose of Daniel Craig, Pierce Brosnan, Sean Connery, or Roger Moore.
Amazon Instant Video — For $2, rent nearly every James Bond movie made on any device with Amazon Instant Video streaming capabilities, including Xbox, PS3, iPad, and Kindle Fire.
Google Play — Download a handful of vintage Bond films like Moonraker and Dr. No on an Android device for $3 each.
Books
With the big-screen excitement of Bond, it can be easy to forget it all started with the book series by Ian Fleming. His experience as a naval intelligence officer during World War II provided much of the fodder for his stories, which started in 1952 with Casino Royale. Find the books online:
Kindle — Download the entire Bond collection to your Kindle or Kindle app. Each title is $7 and includes cool graphic covers.
Read on for where to deliver Bond to your phone.
Apps
Since there's already an app for everything, you bet a gadget fiend like James Bond will inspire tech greatness. Get one more piece of the spy online with these apps.
James Bond 50 Years of Movie Posters ($5) — Film buffs and art collectors will love seeing the Bond look change over the decades with this peek into its poster history.
007 Quiz and Trivia ($1) — Think you know a Brosnan quote from Connery? Prove it. Test your and your friends' knowledge.
Mr. Bond (free) — Take on enemies as if you were in MI6. Take on classic Bond villains, meet up with "Fatal Beauties," and take some impressive cars for a spin.