Which Phone Has a Better Camera, the Droid or the iPhone?
He's a Droid; I'm an iPhone: Camera, Part One
For my first Droid vs. iPhone post, I tested out the GPS functions on both handsets, and eventually conceded that I preferred the Droid's built-in GPS capabilities. Next up, the phones' built-in cameras.
Technically, the Droid's camera is more powerful. With 5MP, 4x zoom, and a flash, it beats the iPhone's 3MPs and flashless snaps any day. The Droid also comes with built-in editing software, while the iPhone does not (though if you're an iPhone user looking for a free photo editing application, I suggest the Photoshop App). On a recent road trip, we each took a photo of California's Bixby Bridge with our respective phones:

While they've both been scaled down considerably, you can notice the differences in the photos almost immediately. Keep in mind that the photos were taken in daylight without the use of the Droid's flash. One initial observation: there's a pretty significant delay when using the on-screen camera button on the Droid (point iPhone!) but once he figured out how to use the Droid's side button to snap the image, we were back on a level playing field. To find out which phone snapped which photo and see larger images of each,
.
The photo on the left was taken with the Droid:

And the one on the right was taken with my iPhone 3GS: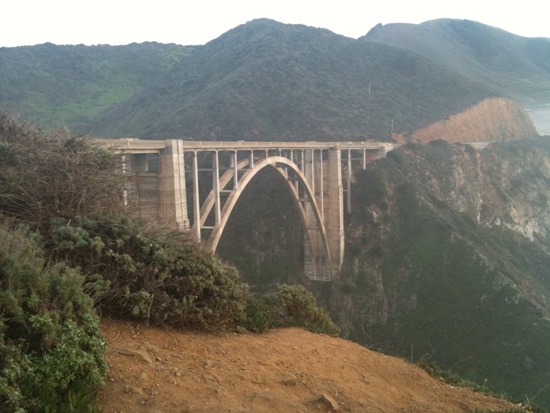 The colors on the Droid photo are a bit more true to life, and I like that you can see the blue sky and cloud detail that you can't see in the iPhone image. It was a relatively clear day, but the iPhone failed to capture the blue of the sky and feels a little fuzzier than the Droid's image. I'm not going to make a judgment based on one photo, so stay tuned for more examples from each, and the rest of my iPhone vs. Droid series!