White BlackBerry Bold 9000
White Hot: The BlackBerry Bold 9000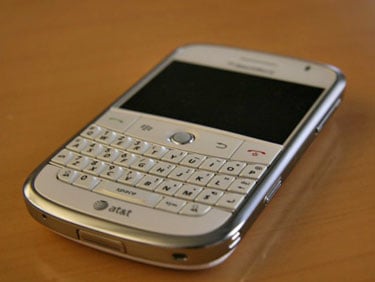 Although I'm obviously an iPhone kind of girl, after playing with the White BlackBerry Bold 9000 for a few days, I was considering a switch. It would take some getting used to — using the trackball instead of my fingers to navigate, and re-learning the interface — but the thought did cross my mind. Not to mention, I'd be in good company along with Diane Kruger, Paris Hilton, and The City's Whitney Port, who all use the crisp white Bold. It's not a coincidence that business-types, celebs, and geek chic gals like myself would want to tote this version of the BlackBerry Bold family — it's fast, easy to use, and oh-so-pretty!
To hear the rest of my thoughts, and to see more photos, just
.
As far as the exterior goes, the White BlackBerry Bold 9000 has this iridescent sheen to it that is so appealing. It's not a boring matte white, nor is it too shiny and flashy — it's just right. Really. Plus, the back comes in white leather (which you know I love), and the stock case has the same pleasing iridescence so you can keep the theme going, while still protecting your phone.
Inside, the Bold 9000 comes with 624 MHz processor, mobile streaming, multitasking, Media Sync (to sync up your music and photos from Windows Media Player or iTunes), WiFi, GPS, and ready for AT&T's Navigator app so you can get where you need to go. Additionally, the Bold's WordToGo and SlideshowToGo software allows you to edit your Word or PowerPoint documents on the fly. Take pictures on the 2MP camera, and shoot and store video on an expandable microSD card to view later. But the real looker here is the display. The bright and crisp half VGA backlit LCD screen displays over 65,000 colors and looks truly amazing.
Under the hood, this BlackBerry is exactly like the other BlackBerry Bold 9000s you'd find in stores, but what sets it apart is its beauty. The White BlackBerry Bold 9000 is available now exclusively at AT&T for $199 after a $100 mail-in rebate.