White iPhone 4 Shows Up on Updated Apple Store App
Apple Store App Gets Update, Hints of White iPhone 4
Apple released an update to its Official Apple Store app this morning, adding a few more bits of awesome to the handy app. For example, you can now add gift wrapping and engraving when you purchase inside the app and reserve products from your local retail location, but you can also check in for reservations, request help while you're shopping with the new concierge feature, and add Apple Store appointments right to your iCal.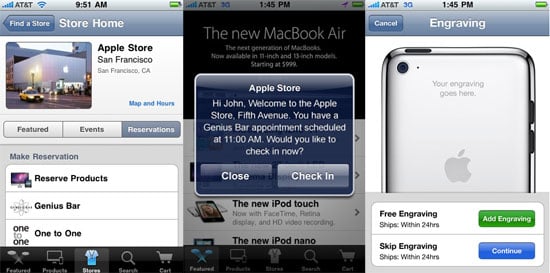 Find out more about the last three features, and what the deal is with the white iPhone 4, after the break.


Genius Bar Check-Ins — If you have an appointment with an Apple Genius, you can check in once you arrive instead of waiting in line. You'll then be called when it's your turn!

Concierge Check-ins — When you enter an Apple Store, you can now check in to get service. Let's say you have some questions about a new Mac and want an Apple employee to walk you through it, you can check in to the Apple Store app, and get your wait time and position in line. At least you'll know how long you'll be waiting!
Genius Bar to iCal — Making appointments with an Apple Genius is super easy in the Apple Store app, and now you can add your appointment directly to your iPhone or iPod Touch's iCal in a few taps.
Wondering about the white iPhone 4? Although some outlets are discovering the white iPhone 4 in the reserve section at their Apple store locations, we got this screen that tells us the white iPhone 4 is not available to reserve in SF. Guess we'll have to keep waiting for the fair-hued device to appear.