Who Is the Star Wars Volkswagen Darth Vader
VW Darth Vader Gets Unmasked, Kinda Looks Like Mark Hamill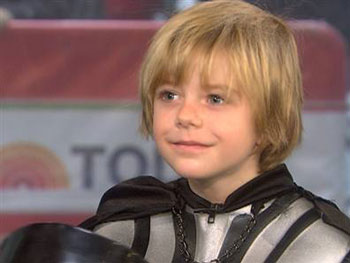 The Volkswagen ad called The Force was far and away my favorite spot from this weekend's Super Bowl. While I was hoping that little Darth would be a girl (there's a pink room!), the actor that played Darth Vader in the ad was unmasked earlier today on The Today Show in NYC.
Not only is 6-year-old Max Page totally adorable, but he's got a story, too: at just 3 months old, he had his first open heart surgery due to a heart defect called Tetralogy of Fallot. While Max has never actually seen Star Wars for himself (it's too scary), he does slightly resemble the original trilogy's star, Mark Hamill, don't you think?
Check out Max on The Today Show in the video after the break!
Visit msnbc.com for breaking news, world news, and news about the economy