Why You Need a Wedding Website
7 Reasons Why You Need a Wedding Website
How do you feel about wedding websites? Some people find them a good outlet for narcissism, while others find them to be a helpful guide during modern digital times. Sure, tossing 600 photos of yourself on your wedding website with an accompanying story about how you met is a little extreme (and totally unhelpful), building a simple site to share important event details and anecdotes from your relationship is not. Here, 7 reasons why you need a wedding website, and what your site should include to be at maximum benefit for your guests.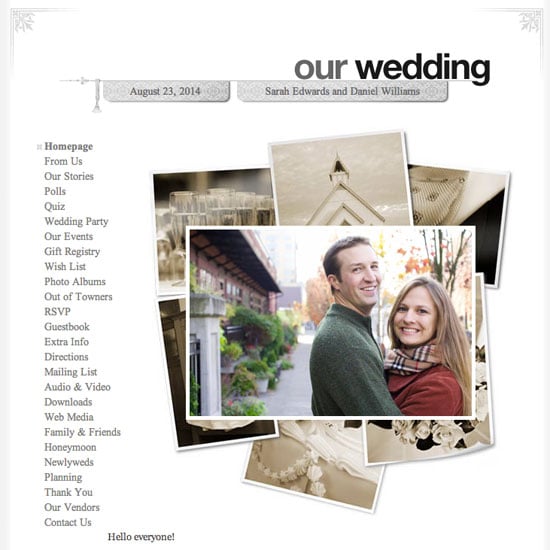 Save on printing costs. If you're having invites printed, you know how quickly the price will rise by just adding another piece of paper to the mix. By directing everyone to your site in any engagement party, shower, or wedding correspondence, you'll save time, money, and effort on printing costs.
Easy registry access. You're probably already refreshing your gift registry to see which items have been purchased; why not give guests easy online access, too? In most cases, you can link directly to your registry info, which makes it easy for guests.
Keep reading for more reasons you should create a wedding website.
Your fridge can only hold so many magnets. If your friends are anything like mine, you already have a fridge full of Save-the-Date magnets from friends and family. The side of my refrigerator is busier than the wedding announcement section of my local newspaper. Skip the magnets, save some cash, and put together a website.
Change of plans? No problem. Last minute location change? In-case-of-rain info? Hotel updates? While major changes to the big event can make for one hectic bride, making the change on your site takes five minutes of your time. Plus, you can add updates as the date gets closer instead of feeling the pressure to nail everything down before your Save-the-Date notices are sent.
It's easy to stay in contact with your guests. Many wedding site templates offer guest book and RSVP sections. Ask guests to sign the book or enter their email addresses to be notified of site updates or changes. Then happily send one email instead of making 150 calls.
You don't have time to deal with 150 calls from 150 guests trying to figure out directions. The last thing you, your parents, or your Maid of Honor has time to deal with is an endlessly ringing cell phone from friends and relatives asking to clarify the location one more time.
It's eco-friendly. No matter how you use it, your site will probably save you cash on paper and stamps, not to mention the trees you've saved by using less paper and carbon emissions you've spared by not loading the mailman down with a whole lot of envelopes. Whether you prefer to go completely paperless and use your site for everything or just plan to ask for eRSVPs for a portion of your wedding-related festivities, every little bit helps.