Why You Shouldn't Get an iPhone 4, and What to Get Instead
5 Reasons You Don't Need an iPhone 4 (and What to Get Instead)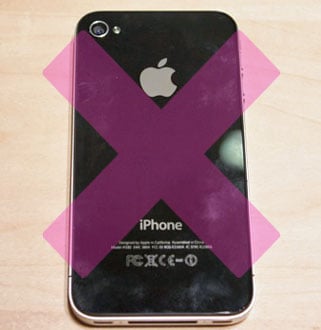 With all the hype surrounding the new iPhone 4, it's easy to get lost in the magical Apple haze. Sure, it's a fantastically designed phone and easy to use, but is it something you can't live without? Some would say no. Here are five reasons to skip the iPhone 4, and a few suggestions on other smartphones you should consider instead.
AT&T — AT&T has a bad reputation for spotty, intermittent service, with an overabundance of dropped calls. Since this is your only network option for the iPhone 4 (for now), it's either dive in (for two years) or stay far, far away.
Front-facing VGA camera — The iPhone has two cameras, but the front-facing VGA is of poor quality compared to the rear-facing 5MP HD version. FaceTime video calling is great, but you're going to have to do it on a lower-quality cam if you want to see your friend on the other end.
See the other three reasons, and learn about your best options and comparable alternatives, after the jump.
Micro SIM — The addition of a Micro SIM tray suggests that the iPhone 4 will be making its way to other wireless carriers. However, if AT&T is the only network to use Micro SIM in your area, you'll have to throw down for an unlocked version (or modify a SIM card yourself).
WiFi only for FaceTime — With AT&T's inability to host video calls, you'll be stuck with WiFi only for FaceTime. Steve Jobs said the network is working on making 3G video calls a reality, but don't hold your breath for too long. Remember tethering? Yeah, that took forever.
Competition — There are plenty of other phones on or coming to the market that can stand up to the iPhone 4's features. The HTC EVO 4G, for example, gives the iPhone 4 a real run for its money — stacking up in memory capacity, screen size, and even allowing video calling over Sprint's cellular network as well as WiFi. Additionally, the Nokia N8 offers a wide range of HD video recording and playback features (HDMI output, 50 hours of playback time, included video editing), while the N8's 12MP camera trumps the iPhone 4's dual cameras all day.