Why Your Twitter Follow/Follower Counts Appeared to Be Zero Today
Why Did Twitter Reset Your Following/Follower Count to Zero?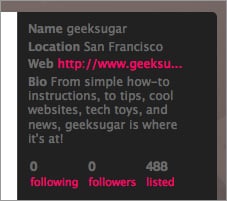 If you're an active Twitter user, you probably noticed it appeared that all of your followers had disappeared earlier today — and that the number of people you followed was set to zero. Apparently, someone discovered a bug allowing you to force any user to follow you, and it caught on after a detailed how-to was posted on a few blogs. Celebrities and high-profile accounts were, presumably, slammed with people's forced follows — perhaps this is the security glitch that Conan O'Brien tweeted about last week, reassuring his followers that he was, in fact, only following one user.
In response to the bug and forced followings, Twitter temporarily disabled all follow/follower counts, which is why it may have looked like you had zero followers for a good portion of today. The bug seems to be fixed and follower counts returned to normal as of now. Twitter also noted that protected tweets did not become public at any point as a result of the bug or fix.