William Shatner Twitter
William Shatner Reveals He Doesn't Really Tweet at TCAs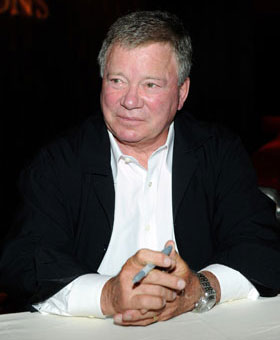 Hot on the star-studded heels of Comic-Con comes the 2010 Summer TCAs in Southern California. It's a chance for TV luminaries, networks, and press to chat about their upcoming seasons and new shows. There's one show in particular that I'm looking forward to, not only because it's based off of a famous Twitter stream, but also because it stars the geektastic William Shatner. BuzzSugar was in attendance of the CBS $#*! My Dad Says panel in LA, and got the inside scoop on Mr. Shatner's Twitter habits, which apparently are not his alone. He says:
I know it's 148 characters . . . well I don't Twitter. I can't even remember my password. I have problems with electronics. What I've done is I've hired a young man out of college whose very fingers are extension of computer keys. He does the mechanics. But I very carefully modulate what I say and have used Twitter to publicize stuff, to have conversations, to instigate competition. It's been an exploration in immediate language. I have had a growing and glowing experience with Twitter.
Although William Shatner's Twitter feed has brought me many a smile since it launched, I can't help but say that I'm a bit disappointed that it's not really him tweeting. Maybe with enough encouragement he'll come around!