Win a Nintendo DS Lite, Video Games, and Powerbag
Submit Your Tricked-Out Geeky Pumpkins to Win a Bag of Treats From GeekSugar!
Costumes are great, but carving pumpkins is one Halloween tradition we'll never skip. Feeling creative? Get out your carving tools and create the geekiest pumpkin of them all — you could win a bag of sweet treats that won't rot your teeth.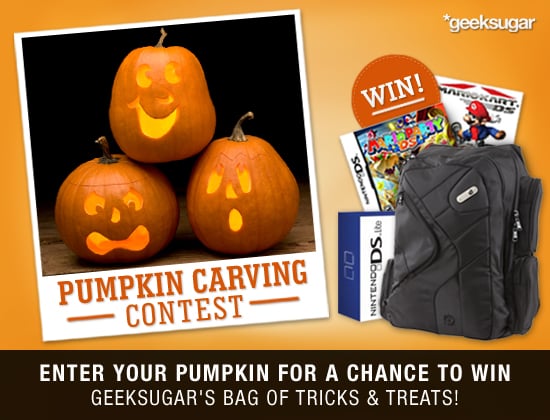 We're giving away a fun prize pack for the geekiest pumpkin photo submitted to our Geeky Halloween Pumpkin Carving Contest group. So grab a template (or just your imagination) and get to work! We'll select a winner from all entrants on Oct. 27. Want to hear more about what's included in the prize (of course you do)? Then keep reading!
Included in the prize pack (worth over $430) will be a Powerbag Backpack that will easily carry your books, games, and gear, and even charge your gadgets, a Nintendo DS Lite, five Nintendo DS games, including Kirby Mass Attack, Mario Kart DS, Mario and Luigi: Bowser's Inside Story, Mario Party DS, and Mario vs. Donkey Kong: Mini-Land Mayhem, along with a Pac-Man Fleece Blanket to keep you warm while you game.
Sound like something you'd be interested in? Then enter now! If you need help uploading your pics, check out our community tutorial, and be sure to read through the official rules here. Happy Carving!