Win a White BlackBerry Bold 9000 From GeekSugar on Twitter!
Win a White BlackBerry Bold 9000 on Twitter From GeekSugar!
We had so much fun giving away an iPad on Twitter (and reading all of your entertaining responses) that we couldn't wait to do it again! Only this time, we're giving away a new White BlackBerry Bold 9000 exclusively from AT&T! I've already told you how awesome this smartphone is, and now you have a chance to experience it for yourself. Want the details on how to enter? Just keep reading: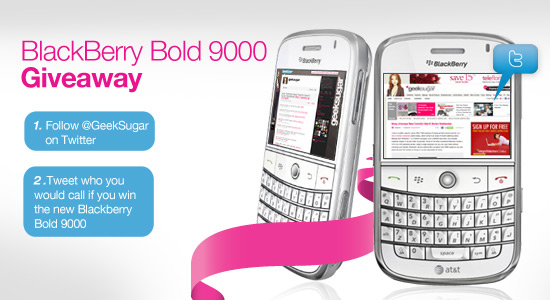 First, follow GeekSugar on Twitter
Then tell us who you'd call on your new BlackBerry by tweeting at us. Include the following message and hashtag to qualify:
If I win a new BlackBerry 9000, I'd call _______ RT @geeksugar http://ow.ly/1g9oM #geek9000
To be eligible, you must be a Twitter user following GeekSugar, but hurry — the giveaway ends on Mar. 23! Check out the full list of rules here, and get to tweeting!