Wind Up Socket Helps Banish Power Vampires, Cuts Down Electricity Use
Power Strip Concept Puts a Limit to Your Electricity Use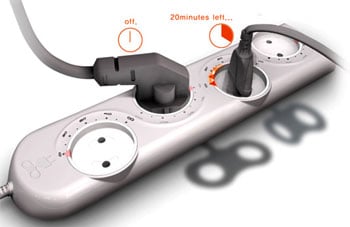 We've talked a lot about vampire power — gadgets and appliances that are turned "off" but suck down electricity just because they're plugged in — and there's one electrical outlet that helps combat wattage use while you're out for the day. But what if you have several gadgets you want to control? Here's an idea — make a power strip with timers in the sockets so you can keep track of how long you actually use an appliance, and save money at the same time. The Wind Up Socket does just that — lets you count down the minutes (like a kitchen egg timer) until your electrical socket switches off.
Hear more about the Wind Up Socket when you
.
Let's say you need to charge up your phone overnight, but you know it only takes an hour of charge to get you through the day. Don't leave it plugged in and wasting juice — schedule your socket timer to shut off in an hour, and not only get a full charge, but save a whole lot of money over the course of the year for banishing power vampires. This would work great for computer chargers, TVs, and kitchen appliances that don't need to be left active after you've heated up your breakfast. Right now the Wind Up Socket is in the concept phase, but I would totally buy one if it was on the shelves today!