Windows 8 Driving Mode
Windows 8 Update Gives More Tiles and a Driving-Safe Mode
With bigger screens now the star of the smartphone universe, on Monday, Microsoft announced updates to the Windows 8 mobile operating system designed with phablet-size phones in mind, along with a one-step setting toward safer driving.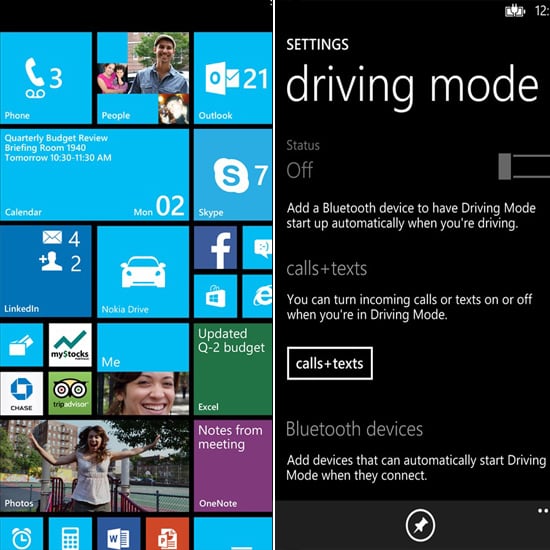 Upcoming Windows phones like the Nokia Lumia 1520 are rumored to have screen sizes pushing past those of mobile mainstays like the 4-inch display of the iPhone 5S, and this update to Windows 8 focuses on those future phones with 5- and 6-inch displays.
The larger phones will have room for six live tiles instead of the current four live tiles on a start screen. Live tiles are those that have changing content appear alongside static pinned tiles that link to apps like Twitter or Skype. A live tile will show the user updates without having to swipe into anything for more content. A CNN live tile, for example, will keep the home screen up to date with the latest breaking news.
Arguably the biggest update for ordinary consumers like us that Windows 8 now offers is one more way to beat the temptation of looking at your phone while driving. When synced with a Bluetooth device like a headset in the car, Driving Mode will take over until you're at your destination. Incoming calls, texts, and status alerts will be silenced, with the option to send an auto reply to anyone trying to get a hold of you while you're in transit.
And to show that it can be all about the little, ordinary things that make a harmonious gadget life, Windows 8 is getting a rotation lock function for pre-bedtime browsing. The updates will roll out over the coming weeks, and be on the lookout for jumbo-size phone announcements as well.