Windows Phone 7 Launch Details
Windows Phone 7 Launch Guide: The Devices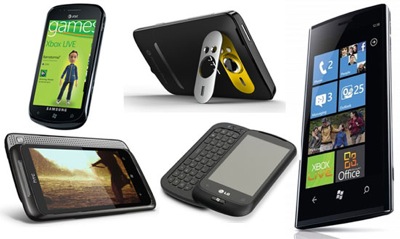 Microsoft CEO Steve Ballmer unveiled a plethora of new Windows Phone 7 devices this morning at a press conference in NYC. Steve took the stage to detail the sleek WP7 operating system and outline the upcoming phones, which will be available in 30 countries through 60 wireless providers. Microsoft has its hands full with the sheer volume of phones it's set to release this year, but Steve Ballmer says he likes them so much that he'll be using them all. Which one will you use?
Get the lowdown on the new Windows Phone 7 devices, their carriers, upcoming apps and features, even the first ads after the break.
Availability
All phones will be available in the US in time for the 2010 holiday season, the first handset hitting shelves on Nov. 8, with exact prices and launch dates to come.
AT&T
HTC Surround — Coming with a 3.8-inch screen and an interesting slide-out speaker system, this phone comes packed with Bluetooth 2.1, a 1Ghz processor, 5MP camera with LED flash, and 720p video recording. There's only 8GB of storage on this phone, which could leave you wanting more when you start loading up on movies and music (why else would you want a slide-out speaker?).
Samsung Focus — The thin Focus is stocked with Samsung's signature four-inch Super AMOLED screen, but looks a lot like the HTC Surround on paper as it also comes with a 1Ghz processor, 8GB of memory, 5MP camera with LED flash, and 720p video recording capabilities. This will be the first WP7 device to launch on Nov. 8 in the US.
LG Quantum — Setting itself apart from the rest of the AT&T WP7 pack, the Quantum will come with a slide-out QWERTY keyboard along with a 3.5-inch WVGA screen, 16GB of storage, 5MP camera and 720p video recording.
T-Mobile
HTC HD7 — This monster of a phone comes with a large 4.3-inch screen and kickstand, up to 16GB of on-board storage, 5MP camera and 720p video recording.
Dell Venue Pro — Breaking from the pack, the Dell Venue Pro comes with a vertical slider, 4.1-inch multitouch AMOLED screen, and as you may have guessed — a 5MP camera.
Upcoming Apps and Features
Ebay has already unveiled its app for the Windows Phone 7, while AT&T has confirmed that its WP7 lineup will be able to stream live U-Verse TV shows. Copy and paste, a feature that most smartphone users already enjoy, won't come on any of the WP7 devices at launch, but will be added in an update coming in "early 2011."
Ads
Two official ads were released this morning, which promise to save you from your current phones. Check them both out below!