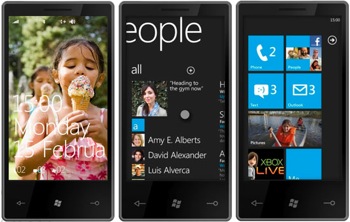 Get excited! Microsoft sent out an email yesterday morning, inviting the press to its Windows Phone 7 launch event on October 11 in NYC. You've seen what the new handset can do thanks to the numerous demo videos and my up-close early impressions, but there's some other info you may want to know about the new Microsoft handset before you decide to buy. Get all the latest details in this launch guide after the break.
Carriers
AT&T and T-Mobile are said to be the first launch carriers, with Verizon said to be offering Windows phones starting in 2011.
Models
Initial launch manufacturers will likely include LG and Samsung, with new handset models being shown off next week.
Gaming
Microsoft has already announced a long list of Xbox Live games being made available on new Windows Phone 7 phones, and will also allow you to hook up your Xbox Live avatar on your mobile.
Apps
Apps you know and love will be ready for the Windows Phone 7, including Netflix, Foursquare, Pandora, and many, many more.
Interface
Getting used to the sleek and minimal interface may be the hardest part about the new Windows Phone 7, especially after becoming accustomed to the icon-addicted layout of the iPhone. Rest assured, navigation is sleek and totally original, and is really easy to get the hang of once you've played with it.
Pricing and Availability
Expect to learn how much, and when you can buy your own Windows Phone 7 at the press event next week. Until then — are you thinking about getting a new Windows Phone, or are you going to hold off?