Windows Phone 7 Xbox Live Games Lineup
Windows Phone 7 Gets Laundry List of Xbox Live Games
Mobile gaming just got a lot more exciting — Microsoft recently announced its lineup of games coming with the upcoming Windows Phone 7, which includes a large number of Xbox Live games. We already knew that you could hook up your Xbox Live avatar to the Windows Phone 7, but Microsoft wowed the crowd at this year's GamesCom 2010 in Germany with the sheer number of games that will be made available to mobile gamers. Looks like Microsoft is ready to take on the iPhone (or the PSP?) in the mobile gaming arena.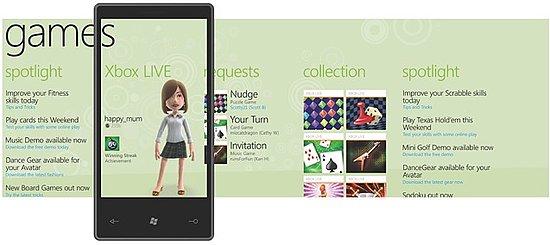 Not only will you have access to a ton of Xbox Live games, but you'll be able to try them before you buy, see live Xbox gaming leaderboards, and play along with your pals in turn-based multiplayer so you don't have to game alone. Additionally, your Xbox Live friends, achievements, and messaging will be made available right from the Windows Phone 7 when it hits this holiday.
Want to see a few of the Xbox Live games you'll be able to play? Then just keep reading!
Bejeweled™ LIVE
Castlevania
Deal or No Deal 2010
Earthworm Jim
Fast & Furious 7
Flight Control
Flowerz
Frogger
Guitar Hero 5
Max and the Magic Marker
Mini Squadron
More Brain Exercise
Puzzle Quest 2
Real Soccer 2
Splinter Cell Conviction
Star Wars: Battle for Hoth
Star Wars: Cantina
The Oregon Trail