Keeping up-to-date on all the latest gadget, website, and Internet scams and viruses can be a daunting task. And if you thought because you're a Mac-head that you're excluded from the fun, think again. The latest malware infestation to hit the tech world is aimed at iPad users.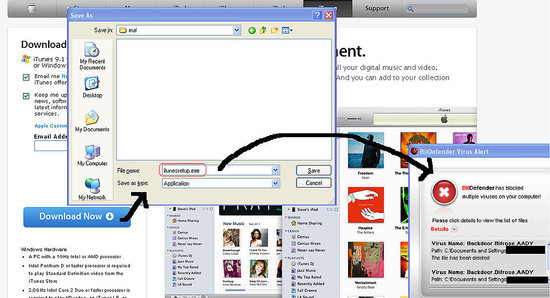 Specifically, the malware is targeting iPad owners that use a Windows computer to update their iTunes software. Here's the details: victims of the virus receive an email marked "iPad Software Update" and are given a link that looks like a legit iTunes software download page. This, however is a fake page, and after being downloaded, opens up your machine to malicious hackers that can gain access to your computer at any time, and even get a hold of your personal info, keychains, passwords, and serial numbers. Find out how to tell if you're about to download this malware, just read more.
A surefire way to tell whether or not you're about to download a malicious file is to check the file names: the one going around now has a file name that may be "itunessetup.exe", while the virus is identified as "Backdoor.Bifrose.AADY." If you see anything like that on what you're about to click, close it out, and stay away!