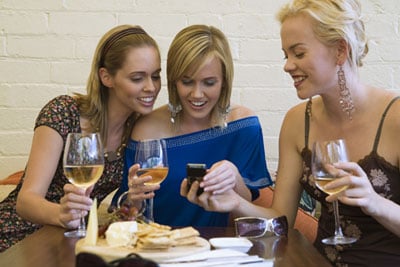 With the holiday party season nearly in effect, you can count on dozens of dinner parties and family gatherings. Naturally, these occasions call for a bottle of wine worth celebrating. Whether you're playing host and looking for the right food pairing or searching for the perfect bottle of red as a "thank you" to the hostess, check out our list of apps and gadgets to keep you swishing, sniffing, and sipping throughout the season.
Hello Vino — This free app for iPhone and Android devices packs an encyclopedia's worth of wine knowledge into you smartphone. Search for wine of all price points based on food pairing, taste, occasion and region. Naturally, there's a social aspect, allowing you to share wine discoveries with like-minded friends via Facebook and Twitter.
Snooth — There may be more social networks out there than one person can keep up with, but Snooth is a community catering exclusively to the oenophiles of the world. Use Snooth to interact with wineries, industry insiders, and fellow aficionados on everything from the history of a specific grape varietal to the best finds in coastal Greece to pairing recommendations for a Summer cookout.
Cooper Cooler Rapid Beverage Chiller ($70) — We'll admit it, we've gone for a subpar white wine at the grocery store just because it was already chilled. Never put convenience in front of quality again, with this beverage chiller, which will get wine bottles down to the proper temperature in six minutes. Add a tray of ice cubes, some water, press a button and let the machine work its magic. Can beer drinkers aren't left out either, as the gadgets adds chill within a quick one minute.
Three more must haves for techie wine drinkers after the break.
Infrared Thermometer Keychain ($28) — Using infrared technology, this thermometer detects the temperature of wine before it's poured from the bottle, allowing you to chill the bottle or keep it at room temperature before opening it. Plus, it attaches to your keyring for perfect experiences on the go.
Cordless Rechargeable Wine Opener ($40) — Treat the corks to a little bit of luxury with an electric bottle opener. Forget fumbling with a manual corkscrew and let the gadget do the hard part, including cutting the foil. The sleek design looks rather fashionable on a kitchen counter top, too!
Food & Wine iPad App — With gorgeous photos, video interviews, and all the expertise of food and wine editors, the free Food & Wine app, which does require payment for certain articles, gives the digitally inclined foodie an interactive experience on the delicious past time of wine and food tasting. Make sure to have a some drinks and nosh nearby as a few minutes on the app will set off cravings.
Are there any wine gadgets, websites, or smartphone apps that you can't live without?