Wireless Fitness Monitor
Tracking Body Fitness For a NewYu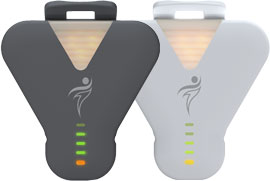 The gadget freaks that we are, we're always excited to find new technology that aids a healthy lifestyle. Just announced for sale in late September, the NewYu ($100) is a small fitness monitor that clips to the sleeve or waistband of clothing. Going beyond a basic pedometer's footstep counting, the NewYu claims to recognize the body's movements for physical activities like cycling, running, or even cooking dinner through motion sensor technology.
The data on how many calories burned, calories consumed, and steps taken throughout the day can be synced through an Android app and via the company's online dashboard. The dashboard can also be shared with workout buddies using the service, to root each other on.
Whether or not NewYu can accurately detect which exercises we're actually doing, anything that reminds us to get up and moving after hours seated at a computer is a good thing.