Woman Sues Google Maps Over Walking Directions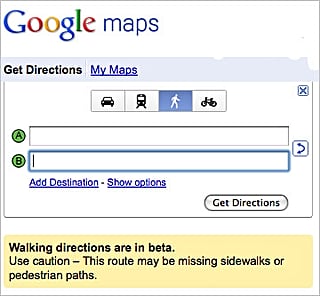 What's not to love about Google Maps? I use it frequently for driving and biking directions, though I've yet to use it to map out an unfamiliar walking route. Despite its usefulness, one Los Angeles woman is suing Google over walking directions it provided her during a recent trip to Utah. Apparently when she searched for walking directions between two relatively close points, it suggested a busy state route with no shoulder or sidewalk suitable for walking. The woman was hit by a car on that road and is now suing Google for its "careless, reckless and negligent providing of unsafe directions." Her attorneys claim that Google should have known that the road was unsafe for walking. Hear more about the case, and my thoughts, after the break.
Google's walking directions search results do carry a disclaimer that states, "Walking directions are in beta. Use caution — This route may be missing sidewalks or pedestrian paths." While the accident and injuries suffered by the woman are certainly unfortunate, I'm inclined to say that it's her responsibility to check out the route before walking it. If she felt unsafe, she should have turned around and found a better option. I'm not positive how many roads exist in the US, but I'm certain the team at Google doesn't have the time to to check each one for safety. What do you think? Is this a frivolous lawsuit, or does she have a legitimate case?