Women at Comic-Con 2013
The Most Dangerous Women at Comic-Con
While waiting in line to catch a glimpse of geek-throbs and Hollywood's latest blockbusters, there's one panel Comic-Con goers will be sorry they missed. Katrina Hill of Action Chick Flick assembled the most badass females in San Diego for a discussion titled, "The Most Dangerous Women at Comic-Con: Dual Identities."
The panel — which included Ashley Eckstein (founder of Her Universe), Jessica Merizan (BioWare community manager), Andrea Letamendi (doctor of psychology, cosplayer, and Batgirl's therapist), Chaka Cumberbatch (author of I'm a Black Female Cosplayer and Some People Hate It), America Young (stunt woman and voice actress), and Morgan Romine (founder of Frag Dolls, a team of professional female gamers) — discussed female fandom and why it's not to be messed with.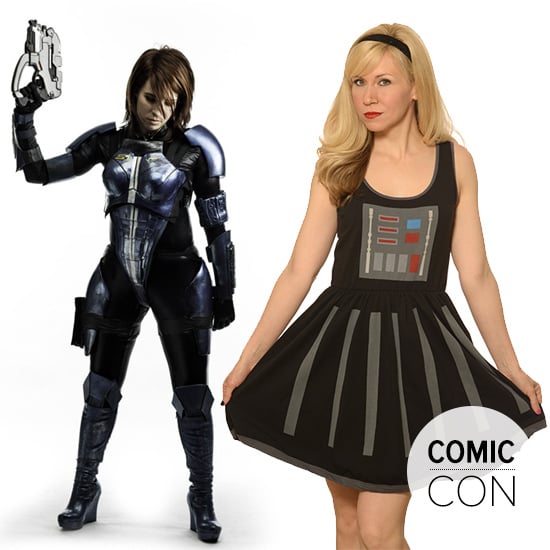 Being dangerous, letting their geek flags fly, cosplayer harrassment, and the perception of ladies in the geek world were hot topics. Read on for the best bits from the most underrated panel at this year's Comic-Con.
When are you the most dangerous?
Ashley Eckstein (above, right) — "When someone tells you no. If I'm passionate about something when somebody tells me no, I will go out of my way to show that I can do it. I can achieve it. I love proving people wrong."
Jessica Merizan (above, left) — "[I'm] most dangerous when somebody tweets and somebody talks about feminism. If you want equal rights, then you are a feminist!"
Andrea Letamendi (below, bottom right) — "When I hear about my friends being bullied. I get very mama bear."
Chaka Cumberbatch (below, bottom left) — "When I hear about friends getting bullied or I see it happening on the show floor, I will call it out. If myself or my friends are being compromised, I will say something."
America Young (below, top left) — "When I sleepwalk with weapons."
Morgan Romine (below, top right) — "Before I've woken up in the morning. But also if you're messing with my people. Not even just women, but trash talking geeks, period. And since I'm a Ph.D. student . . . deadlines. In that 11th hour, I'm the most dangerous."
On girls in the geek world
AE — "When Her Universe approached Lucasfilm, we said 'close to half of all sci-fi and fantasy fans are women — why are you not catering to this market?' Lucasfilm was very supportive and because they signed on, a lot of the other brands followed. But they did say, 'We tried to sell to women in the past and it didn't work. Why now?' Well, probably because it was one t-shirt that was pink and said, 'I love scoundrels' on it. I wanted to go to directly to the fans and see what they wanted."
JM — "I started out as the only woman in my gaming department . . . and now we have three. It's great. But really, as a female, you almost have to know more or you're going to get quizzed on it. I feel like it's getting better, though. I just installed STEAM for the first time recently and I don't think I could have said that out loud a couple of years ago."
On geek girl harassment
CC — "I was at another Con, and tweeting pictures while waiting for my badge while I was in line. And people were responding to my tweets with the hashtag #gropecrew saying things like 'I know what you look like. I'm going to come find you, etc.' I started to speak out against this Grope Crew and people were responding that they were just trolls and I should ignore them. But threatening to rape a girl is not trolling!"
JM — "You have to call that stuff out. The standard you walk past is the standard you accept. If it's a safe environment, call it [the harassment] out."
MR — "I wonder if that's a part of the process. As we rally together about sexism and we take one step forward, we also take one step back. Now that there are more women at conventions, some men feel threatened."
When are you the geekiest?
AE — "Disney — big time. My poor husband . . . I'm turning our dining room into the Mad Hatter's tea party and I make no apologies for it."
JM — "Anything to do with anthropology or archaeology. This sounds really creepy in my head, but I have a resin cast of a fetus skull."
AL — "When I'm at Comic-Con. I feel like I have dual identities with my professional life and my cosplay life. I love being saturated for four to five days with people that like the same things I do."
CC — "I'm in love with Sailor Moon. The apartment I share with my boyfriend is not evenly remotely gender neutral because there's Sailor Moon stuff everywhere. I just regress to being back to 7 years old when I talk about it."
America Young — "When I'm awake. Actually, when I'm sleeping too. I'd say if I'm breathing, I'm at my geekiest."
MR — "This Nintendo DS. I just got it to get street passes for Animal Crossing."