Womens Bathroom Line at Tech Conferences
5 Techy Places Where the Men's Bathroom Line Is Worse Than the Women's
One of the perks of being a geek girl at CES is getting to hang out with the boys. A lot of them! As such, techy events may be some of the few places that the lines for the men's room outlast those for the women's. Here, a list of five awesome bathroom line experiences we've seen in the recent past.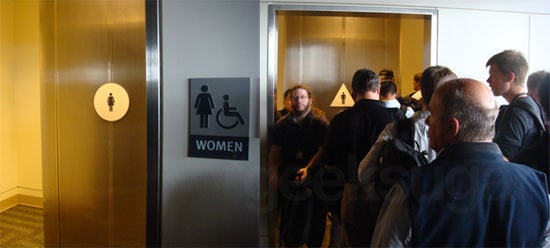 CES After running around the corner for a quick bathroom break at this year's CES, I was greeted with a huge line. . . for the men's room. The ladies' was smooth sailing the whole way through.
WWDC Apple's developer conference, held in San Francisco each year; again, it's a welcome sight to see lines out the door for the gents and manageable or even empty for the ladies.
Apple's campus On an average non-event day, there are plenty of women on Apple's Cupertino, CA campus. . . but there are more guys. During one visit around lunchtime, I noticed some wait time for the guys but hardly any for the women.
MacWorld Since it's sort of like a mini-CES, MacWorld experiences a similar bathroom situation. Except once, I saw some women's restrooms being changed to accommodate men — talk about a funny role reversal!
E3 There are very few girls at this gaming conference in Los Angeles. . . that means easier access to all of the bathrooms, mirrors, sinks, and hand dryers.