Wooden Cat Docking Station From Etsy
Wooden Cat Docking Station: Totally Geeky or Geek Chic?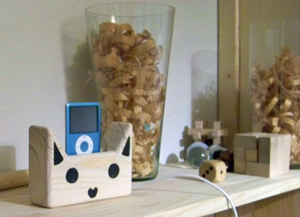 Check out my latest Etsy find: a wooden cat head docking station ($34) for iPhones and iPods. Etsy user lytsethommy carves sustainable wood into a geometric cat head, adds a few circles and triangles to his design, and the end result is this adorably cute docking station. The big question is whether or not adorable is your kind of thing.
An iPhone or iPod sits in an opening on the top of the docking station, which needs to be plugged into a computer for charging. What do you think — totally geeky or geek chic?