Wool iPad and MacBook Air Sleeves
Elegant Handmade Sleeves For the iPad and MacBook Air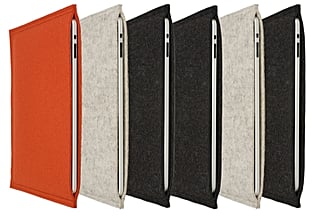 Slip your favorite new gadget into a chic wooden sleeve this Winter with one of these handmade beauties from Nedrelow. Made in three different sizes from 100 percent wool, the sleeves are hand-sewn to provide a snug fit.
Choose from a top-loading or side-loading sleeve for your iPad; MacBook Air Sleeves for both the 11- and 13-inch Airs are side-loading only. All three are available in charcoal or oatmeal colors; the iPad sleeve is also available in (my favorite) orange.
Bonus: the 13-inch sleeve will fit your 13-inch MacBook, too.