Words With Friends For Android
Words With Friends Is Coming to Android!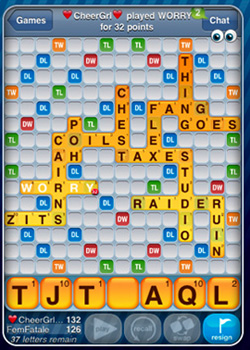 This is fantastic news; delightfully addictive Words With Friends is coming soon to Android. Currently, the Scrabble-like game, which already has 10 million users, is available only on iOS devices.
The free Android version of the game will include the same features as those enjoyed by iOS users: in-app chat, push notifications, and the ability to play up to 20 games at once. Android and iOS users will be able to play against each other (remember that predicted cross-platform app trend?), creating words and scoring points.
Also coming soon: a paid, ad-free version of Words With Friends.