World Cup Vuvuzela Horn iPhone App
Shudder-Inducing World Cup Horn App Gets You in the Game
If you've been following along with all the World Cup live streaming action, it's very likely that you've noticed the annoying horns that are trumpeted during each match.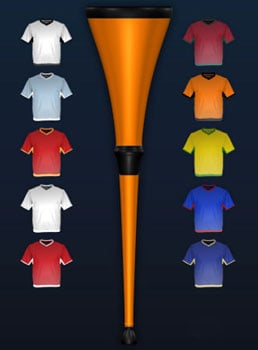 You know, the ones that sound like an angry swarm of bees? Yeah, that's the one. Called a Vuvuzela, these horns are used by soccer fans all over the world to show support of their teams. Although the horns have met with many complaints since their first appearance in the 1970s that shouldn't stop you from downloading the free Vuvuzuela 2010 app that puts you and your World Cup party guests right in the middle of the stadium. Well, it will sound like it anyway.
The app is simple — just touch the horn, or shake your iPhone or iPod Touch to create the signature sound. The good news? This app won't blast your eardrums nearly as much as the real things do! Add this app to your list of must-have World Cup gadgets and party on.