Would You Camp Out For a Gadget?
Would You Camp Out For a New Gadget?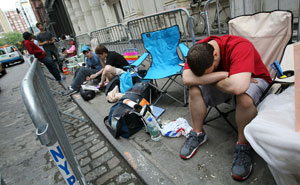 Good thing the weather in NYC has mostly been cooperative this week. One resident, Greg Packer, has been camped out in front of the Apple Store all week in order to be the first New Yorker to purchase the iPad. He's no stranger to sleeping on the street, either — he's also been first in line for the iPhone's release in 2007 and the release of the final Harry Potter novel.
Sure, I'm excited about the iPad, too, but given the ease of preordering the device online and having it arrive safe and sound to the comfort of your own home, camping out just seems extreme. Is there a gadget you're excited enough about to wait outside for days?