Would You Use a Coin-Operated Karaoke Booth?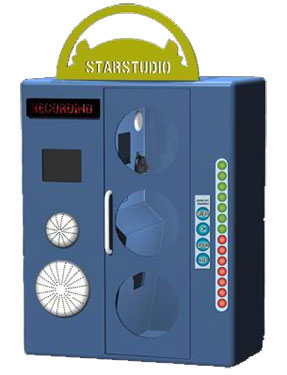 There's no denying I'm a fan of karaoke games like Sing Star and Lips, and truth is, you'd be hard pressed to find a karaoke bar that I wouldn't queue up for. But singing in a coin-operated karaoke booth? Now that's just silly . . . or is it? Aiming to compete with other music games found in arcades (like Guitar Hero), The Mobile Star karaoke booth may be coming to a town near you soon.
With studio-quality sound and an automated performance capture system, you can rock out to your favorite tunes in the privacy of the soundproof booth and leave with a digital CD of your set. I'm intrigued, but the fact that there's no price per song makes me think it's gonna be a little outrageous. But hey, the cost could be worth it —some record exec could hear your performance and snatch you up faster than Mary J. Blige back in '88! So tell me — would you use a coin-operated karaoke booth?