Xbox 360 Music Apps
Xbox Music Goes Mobile (For All)
When Microsoft launched its music streaming/MP3 store/Internet radio platform Xbox Music last October, it was a bit too expensive ($160/year on Xbox, $100/year on Windows Phone) and too exclusive (only on Xbox, Windows Phone, and Windows 8) for many.
Starting Monday, Microsoft is offering free, ad-supported streaming at music.xbox.com, and the company is opening its doors to iOS and Android users with its first entertainment apps for non-Windows Phone platforms.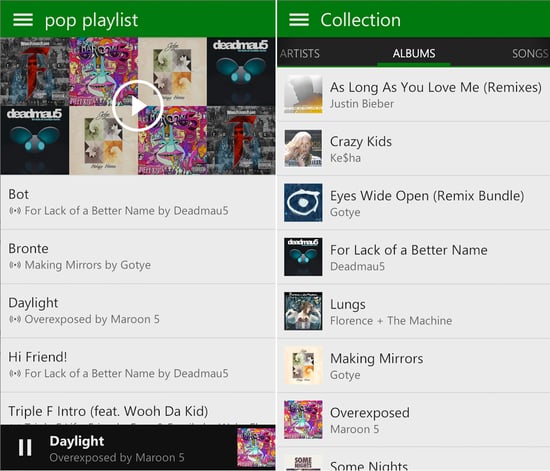 To use the app, users need to subscribe to the Xbox Music Pass ($100/year). Xbox Music on iOS and Android offers ad-free music listening on mobile, artist-based radio stations, and playlist creation. The apps can't download music for offline listening yet, but Microsoft says the feature is coming soon.
The desktop version, however, is free and supported by ads, like Spotify. After the first six months, free streaming will be limited. The interface is simple, minimalist, and easy to use, and the sound quality is fantastic. But we're more excited for the Xbox Music features to come.
Web Playlist, which is set to launch on Oct. 18, is a new tool that will scan a webpage you're looking at (a festival lineup, concert listing, etc.) and create a custom playlist of the bands' songs and albums right in Xbox Music. Bing will also begin featuring full tracks in its search results if you search for a musician, band, or artist. Artist-based radio for the web, with unlimited skips, will launch with Windows 8.1 as well.
We're expecting even more announcements at Microsoft's Sept. 23 event — so stay tuned.