Xperia X10
The Xperia X10 Is a Social Network Addict's Dream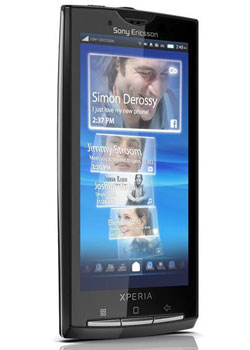 At first glance, the Android-running Xperia X10 from Sony Ericsson could be just another smartphone. Packed with a 4-inch touchscreen, fast 1Ghz processor, 8.1MP camera, and up to 32GB of memory, this phone is a nicely competitive device for those who have surpassed the need for a simple flip phone but aren't yet into the megawatt power of the recent batch of "superphones" like the EVO 4G, Droid X, and soon-to-be Droid 2.
However, if you're addicted to your social networks like Twitter and Facebook, have a boatload of pics on Picasa, and consider music and videos a necessary evil in life, this could be the phone for you. Find out why (and see more images) after the jump.
The Xperia X10 comes with a UI that is fitting for those social and media addicts on the go. The new Timescape application allows you to see you and your friends' real-time updates in one window, even organizing them in chronological order. Plus, if you tap the Sony Ericsson Infinite button, you'll see all of the interactions between you and a selected friend in one place. It seems to really cut down on the searching and scrolling that can take place when you're looking through messages and updates.
Additionally, the Xperia X10 will come with something called Mediascape, which pulls a bit of influence from the Windows Phone 7, in that it will show you all of the photos you've taken with the on-board camera, along with all of the pics that are stored on your SD card, and online social networking accounts (like Twitpic, Facebook, and Picasa) in one big photo gallery with albums. Musically, you can press the Sony Ericsson Infinite button while listening to a song, and pull up any related content to the artist on your phone, SD card, or the Internet via Google and YouTube.
Interested? The Xperia X10 will be available through AT&T on August 15 for $150 with a new two-year contract.