Yahoo App
Cliff Notes For the News: Yahoo!'s New App Summarizes Top Stories
Get in, get out, stay in the know — that's what Yahoo!'s new iOS app (free) is all about. Yahoo! for iPhone and iPod Touch gives readers a quick, easily digestible version of the day's top headlines. Less than a month after the Internet conglomerate acquired Summly, a news summary app founded by 17-year-old whiz kid Nick D'Aloisio, Yahoo! has incorporated the startup's technologies into its own flagship mobile app, offering Yahooligans a better way to skim headlines and get the info they need right away.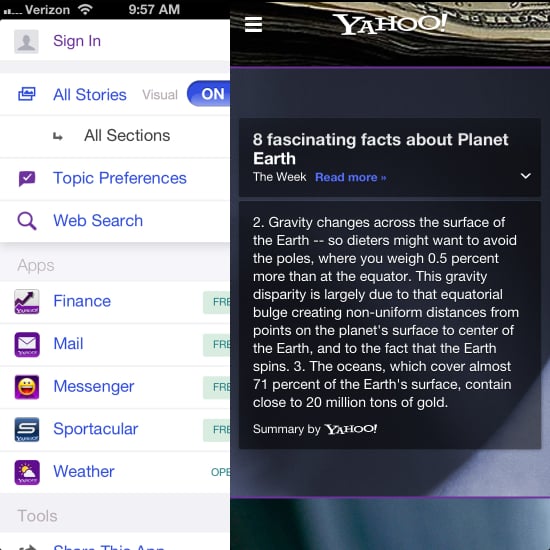 In a Yahoo! Yodel blog post, CEO Marissa Mayer (who was just named one of Time's most influential people) said the new app is "smarter, using Summly's natural-language algorithms and machine learning to deliver quick story summaries."
But the technology wasn't the only improvement to the update — turn visual stories "on" and you'll see an immersive news feed that shows one story at a time against photo-centric background that's similar to Facebook Home's cover feed.
The flagship Yahoo! app, along with the company's just-released weather and mail apps, is part of the "new, more mobile" Yahoo!. Check out screenshots of the revamped apps after the break and let us know: is Yahoo! getting its groove back?
Yahoo! Weather
Yahoo! Mail for iPad