Yearly Microsoft Zune Pass
Get a Yearly Microsoft Zune Pass For $150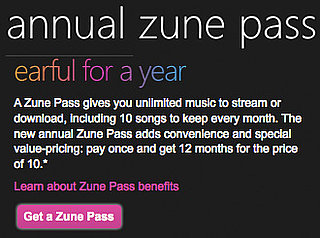 To coincide with the launch of its Windows Phone 7 next month, Microsoft is offering a yearlong Zune subscription for $150. The yearly pass allows users to stream an unlimited amount of music and includes 10 song downloads each month on your new Windows phone, which comes with built-in Zune functionality.
Find out what else is included after the break.
The Zune pass comes with built-in helpful features to find music you want to listen to. Browse and stream millions of tracks; at the end of each month you'll see suggestions for which 10 songs you should add to your permanent collection based on your top 10 most-listened-to songs that month. Plus, different channels and a Zune feature called Smart DJ helps direct you toward music you want to hear.
The monthly Zune pass is available on any device that supports the Zune OS including your PC and Zune music player.