Yelp KegMate iPad Controlled Keg
An iPad-Controlled Keg? Party Time!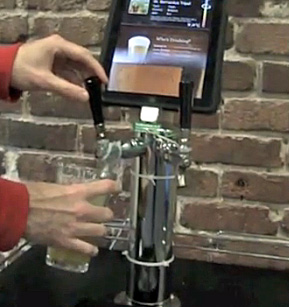 Yes, even geeks know how to party! Meet the Yelp KegMate, an iPad re-engineered to be your virtual bartender. Created by a team of Yelp engineers, the KegMate attaches to your keg, measures the amount of beer you (and others) drink, and keeps track of who is drinking (drinkers must scan an RFID chip to use the keg). It even allows users to rate the beer. Too bad it doesn't serve you, too!
Check out the explanatory video after the break.